Making Your Home Sing: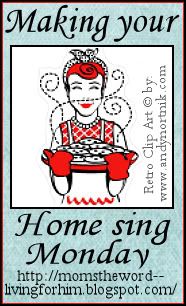 Welcome to the Making Your Home Sing Monday meme! Every day you are doing something to make your house into a home for yourself and your family (if you have one).
It can be an attitude or an action. Motivation, our attitude, baking, encouraging our husband or children (if we have either one), organization, cleaning, saving money....the opportunities are endless.
Well SO much has happened since i posted last.. MY soon to be EX husband kicked me and the kids out because GOD told him to remarry is first wife or he was going to hell.. I have adjusted to my new life ..met a wonderful MAN.. im done with boys.. my ex husband was a boy.. MY new home is a townhouse where everything works and there is no holes in the floors and things get fixed unlike when i was living in that hell hole rat trap my ex owns.. My kids are SO much happier and my new man treats me and my kids with love and respect. No more being verbally and emotionally abused.. Only being showed what it is really like to be loved back and to get and recieve..I also gained two step sons who are six and four, so we have five kids six and under.. they are six, four , four, three and one.. MY new home is organized and runs smoothly and so now it is singing.. There have been some major adjustments and we have made them. I am SO happy , and feel so centered and enjoying whereI am in my life .Things can only get better.. HOpe everything is well with Y'all.