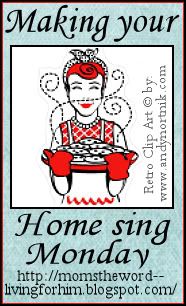 make sure to visit Moms the word for MORE
Monday's!
So my home is singing, this past week there was crack in the foundation read about that
HERE.
But the repair work has began and things are MUCH better than they have been literally in YEARS. I'm caught up on the dish's, all the toys are sorted and put away , all the floors have been de-cluttered, swept and mopped, fridge cleaned out, closets cleaned out.So i still have the normal stuff to do but It feels good to be caught up .