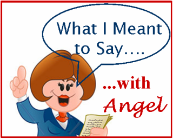 make sure to go
HERE
for more what I meant to say's
Me: Miah go clean your room PLEASE..
Miah: I cant there are too many toys out..
Me: well you put them there you pick them up
Miah: Its not fair .. YOUR THE MOMMY you pick them up i m just a little girl.
Me: you are old enough at four to pick up after your self.
Miah: Well back in the 80's when i was a baby you did it for me..
ME: try to keep my composer.. GO CLEAN YOUR ROOM or i'm getting a garbage sack and throwing them away..
Miah: OK geesh..seriously this is "rediclious" relax mom.. im going .
and as she rounds the corner she sees her brother gus and says.. "better not go in there mom needs a chill pill"
THIS MADE ME BUST UP.. SHE IS FOUR.. ahh kids..