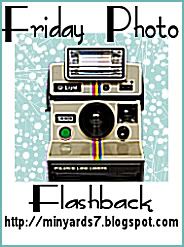 Check out more flashbacks at Alicia's
blog.
So here are some pics from Last years forth of july camp out by the river.
Every Year hubby's family gathers at the cabin by the river and his cousin has a commercial fireworks licenses so every one (around 250 ppl) each pitch in around 20 bucks a piece) and he buys and sets them out. it is sorta a yearly family reunion and we have a HUGE BBQ and float the river and have a potluck lunch .We have great time, there is always softball, volleyball ,ton of four wheelers, horseshoes. and overall good time.I cant believe how much the kids have grown since then .. Gussy was so LITTLE.. ..and we are most definitively attending again this year so I will be spending all day today preparing to take a 3 yr old and 1 yr old camping. not a small fete. so i better get off here and get a start on it.. i hate packing for trips..
Miah,Gus, cousin Colton and Step mother in law to be Rosie
Miah and Gus . last year Gus's First 4th of july ..
Gussy and Daddy hangin by the river.look how small gus is..
papa Gus and Miah