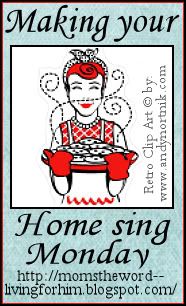 Make sure to check out
Mom's The Word
this week as always she has a great post.
So what am I doing to make my home sing this week Not a lot.
Monday I have to take my 3yr old to the dentist to have a filling replaced she fell down friday morning and knocked it out. Tuesday I have a baby doctor appointment at 10 am the a wic pick up and my big girl has a physical at 2pm for her preschool application.. YES my angel is goin to school on Aug 24th, I m Not sure how ready I am for her to go but she is excited. I am so sad she has grown up so fast. Maybe Wed, Thurs and Fri I will feel up to getting some much needed house work done. Honestly my house is a WRECK.. There is a sink full of dirty dish's , the living room looks like toys r us store exploded and the bathroom is stacked full of dirty laundry..SUZY HOMEMAKER is M.I.A. So does anyone ever get depressed when their house is a mess but still dont feel motivated to fix the problem or cant due to health problems.. and feel guilty about letting your house fall in around you? I wish I could have a maid for ONE day but I dont see that happening.. so .. until next week .. I hope you all have a good week..