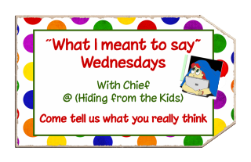 SO yesterday afternoon my 2yr old was down for a nap, my 4 yr old was supposed to be laying in her room "resting" while i nursed the baby .. She comes running up the hall red in the face and choking.. I asked her what was wrong and she said she swallowed a penny.. ( not the first time that has happened in this house..my 2 yr did it when he was 10 months old and had to have it surgically removed.) so I SAID: REALLY ..seriously did you really swallow one or are you just teasing?? HER: NOPE i really swallowed one.. ME: WHY ? HERi wanted to.. aaahhhhhhhhhhhhhhhhhhhhhhhhhhh
SO what i WANTED to say : JUST WHAT IN THE HELL WERE YOU THINKING. YOU LITTLE SHIT.. YOUR BROTHER AND SISTER ARE ALMOST ASLEEP AND DAM IT I WANTED A NAP TO. NOW I HAVE TO WAKE THEM UP LOAD THEM UP DRIVE 20 MILES IN TO TOWN JUST FOR YOU TO GET A XRAY WHEN YOU KNOW BETTER THAN TO PULL THIS SHIT.. AND I SHOULD WHIP YOUR ASS FOR THIS.. (but i would never talk to my 4yr old this way ) so i had to just bite my tongue..
I had to call her daddy to tell him what we were up to , and he was aggravated I bothered him at work and worried about her.. and I had to call my mother in law to take off work to come sit with the younger two while I had her in the x ray room.. so check out more wednesday's
HERE..
oh YA.. the x ray showed it was in her tummy and "just have to pass" on its own.. so she is just fine.I told hubby if she poops a 100 dollar bill im feeding her quarters for breakfast..LOL..