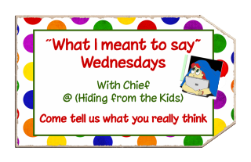 So Last night the hubby and I had a talk. and I 'splained some stuff to him. you can read more about it
HERE.
so I asked him SO just what do you think my day is like everyday while you are gone at work with 3 kids 4 and under?
He said: YOU sleep till 9 or 10 get up ,eat , watch t.v with the kids,crochet, type on your computer, might clean a little , go to town , spend money , take the kids to the doctor at least once a week.
I SAID: Oh .. really??how informative..
WHAT I WANTED TO SAY WAS:: YES I MIGHT SLEEP TILL 9 BUT I'M UP EVERY 2 HRS TO FEED THE BABY .. YOU SLEEP FROM 10-6 ALL NIGHT EVERY NIGHT.I FIX THE KIDS BREAKFAST EAT WITH THEM AND YES WE WATCH CARTOONS,THEN I FEED THE BABY, WRITE MY TO DO LIST , DO MY HOUSE WORK WHILE THE KIDS PLAY THEN IT IS LUNCH TIME I FIX LUNCH FEED AND CHANGE THE BABY , THEN IN THE AFTERNOON SOMETIMES I HAVE TO GO TO TOWN AND SPEND MONEY ON THINGS LIKE TOILET PAPER AND FOOD CAUSE SOMEONE EXPECTS SUPPER ON THE TABLE WHEN HE COME HOME AT WHAT EVER TIME THAT HE DECIDES CAUSE HE CANT CALL AND LET ME KNOW WHEN HE IS GOIN TO BE LATER THAN 4:30 WHICH IS WHAT TIME YOU ARE SUPPOSED TO BE OFF WORK.OUR TWO OLDER CHILDREN HAVE CHRONIC ASTHMA AND ALLERGIES AND ARE SICK a lot SO WE ARE AT THE DOCTORS A LOT, BUT WOULD YOU RATHER THEM not BE ABLE TO BREATH AND WHEEZE,HAVE UNCONTROLLABLE ITCHING ,RED SWOLLEN EYES AND FEEL LIKE CRAP 80 % OF THE TIME??
I want to just SLAP The shit out of him but i didn't..and we had a nice chat and i feel much better now..
and read more
WEDNESDAY"S here...