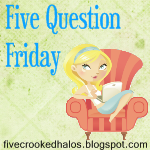 It's that time again! Five Question Friday with
Mama M
!
1. Is there something you've always wanted to try but just can't muster up the courage to actually do yet?
how to dive in to water.. i never learned to dive.. .
2. If you had $100 handed to you in cash without your significant other knowing about it, what would you spend it on?
I would buy him a birthday present and a fathers day gift they are both next month
3. What was your favorite piece of playground equipment as a child?
teeter totter..
4. Do you prefer a sweet or hearty breakfast?
I dont hardly ever eat breakfast
5. Are you a Neat Freak or a Messy Bessy?
I am in between..I wish I was more neat freak.