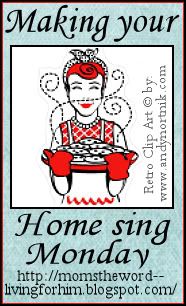 Welcome to the
Making Your Home Sing Monday
meme! Every day you are doing something to make your house into a home for yourself and your family (if you have one). My point with each Monday post is, what are you doing or going to do today to make your home sing?
It can be an attitude or an action. Motivation, our attitude, baking, encouraging our husband or children (if we have either one), organization, cleaning, saving money....the opportunities are endless.
SO it is Monday again and my home is humming. WHY?? you ask.. well my truck broke down.. yes my NEW truck (new to me) we got it in June. It is firing just not getting enough fuel to turn over..Hubby thinks it has bad injectors or something. Anyways being stuck at home has advantages..Ive had plenty of time to clean.. Most the dish's are caught up , all the floors got a good old fashion mopping. ( i normally use my beloved swiffer wet jet), and im moving more laundry thru. I hope to get out to our storage shed and start sorting thru the baby girl clothes and organizing them in categories IE 0-3m , 3-6m, 6-12 m, etc. and bringing in the baby gear and cleaning it up . Ive also had time to bake more and make extra meals and freeze some for later.. I ve purged the kids drawers and sent the summer stuff to the shed and I have stuffed them with winter items.. I also relieved my little girl has had a grown spurt, so if any one wants to donate any size 3t or 4t jeans.. I'll send you my addy..(lol)so OH darn im goin to have to go shopping..(smiles evilly)Im trying to get as much done now as I can since when I had my ultrasound I was told I have complete placental previa and am supposed to be taking it "easy". At some point I'm goin to be on bed rest. so i have to get what i can done now..