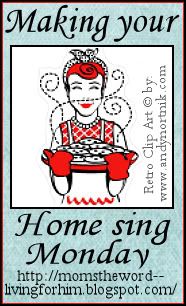 Check out more Mondays
HERE..
So my home is once again singing the hubby and i had "come to Jesus" meeting where i told him how the cow was goin to eat the cabbage or be put out to pasture and he has really tried to be better and so have i. I got all my closets organized just in time to swap out the winter clothes for the spring clothes . I spend an hour in our storage shed digging out the spring stuff. SO this week I have the normal , sweeping mopping, dishes and laundry to do , closets to purge and I am finally switching the baby out of *GASP* disposable diapers to all my cloth. and we are focusing on potty training my 2 yr old son. ( any advice is welcome). I even made breakfast home made whole wheat waffles i got the recipe
HERE
and they were YUMMY!!! also got my menu made out I hope I can stick to it and I'm starting to work out with my Denise Austin dvd's again to lose the baby weight. I also want you all to read this post
HERE
about how I save a TON of money on baby stuff.
happy monday hope your home is singing..