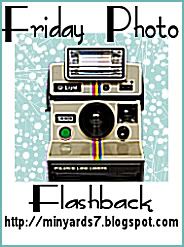 Well TGIF..and after the way this week has been I'm defiantly ready for it to be over but it cant end with out Friday Photo Flash Back and this weeks them is wedding pics.Check out
Alicia'
s FPFB post after all this was her wonderful idea..
So about my wedding.. It was both a happy and sad day in my life .. Let me take you back to June 7th, 2005 , My dad was diagnosed with stage 4 cancer and given 2-3 to live that was Tuesday before my wedding on Saturday June 11,2005, On Thursday June 9th my daddy came home from the hospital with hospice care, and at 5:30 am on June 11th, he died. AT 3 pm I got married.I was the hardest thing Ive ever had to do was bury the only person who was ALWAYS there for me when i need ANYTHING , there isn't a day that goes by still four years later when i dont think of something i need to ask him or want to tell him.We went to
Branson , MO
on our Honeymoon that Saturday night and stayed Sunday and came back to my moms on Monday for his visitation and then Tuesday was his funeral. So im posting a pic of my dad and me on my wedding day when i was married the first time in 2001 and the pics of my wedding from 2005.Let me tell you about my wedding its self, We had planned to have it in the field below my parents home so dad could be wheeled down for the ceremony as he had been sick for some time and in a wheel chair. We arrived at 9 am in town and i went to get my hair done and because i was a few minutes late the lady refused to fit me in .. so i went across town and my first choice who said she was booked called in a favor to a hairdresser named lyn who was off that day but he came in and took care of me.. then off to the house to set up ..well it came a thunderstorm, while i was getting my hair fixed, my hubby to be set up the arch , and hay bails, (Can you say redneck wedding) and the saw horses and plywood tables for the reception and the wagon and tent where the cake was to go, about an hour and a half before the wedding it began to rain and rain and thunder and lightening and the arch blew over and the tent blew away so we ran down and carried the cake in to the house and called the preacher and asked if we could use our church and he agreed so we all loaded up and headed to the church, in the process i got totally soaked and my dress was all muddy and my make up all ran off, when we went to set up the cake the icing had gotten to hot and was melting and wouldn't set up right so it was stacked a different way and then we had NO decorations in the church and when we finally started the wedding the church's music system wouldn't work so we had NO music.. oh ya few weeks earlier we had reserved our room at our hotel with my dads credit card and thought we paid for it so when we went to check in they wanted his card well i didn't have it so we explained our situation and they let us stay anyway,needless to say we managed to have a little fun that night .. proof .. my daughter was born 10 months to the DAY we were married , we named her after my dad ..his name was Thomas Lynn and we Named her Tommiah Katelynn and call her Tommie-Kate Tommiah means honoring Thomas.the next night we camped out and went to
silver dollar city
, and then back to my moms.. i call it my wedding from HELL!! you know it is funny my first wedding was PERFECT and the marriage was a DISASTER.. and this time the wedding was a Disaster and the marriage is really good yes he aggravates the hell out of me on special occasions..aka read my
mothers day
post, but he is a pretty good guy the rest of the time, He is WONDERFUL daddy and a great provider and husband.So we have planned at some point in the future to renew our vows and try to have a better ceremony than last time, and it will be a REDNECK affair.