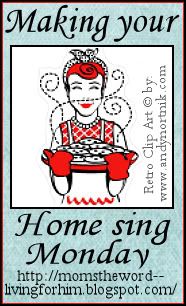 Well since I'm on 100% bed rest, you can read why
here.
So my home is not singing in tune this week. My sister is here from Missouri to help me with the little ones since i can only be a spectator but Ive enjoyed the time to read a lot of story's with my kids, play several rounds of memory , chutes and ladders, and candy land with my 3yr old. and cuddle my 16month old.Ive also got a few crochet projects finished you can check them out
here.
SO nothing exciting goin on. Ive also gotten to sew on my cloth diapers, my machine is broken so im hand sewing them.. its not like i can do anything else.. i try to be hopeful and think that everything is OK with the baby and if not this is happening for a reason but sometimes i just cant.So I am trying to keep my mind off of it by blogging. Check out
Moms the word,
she has a great blog..